Via NaturalNews.com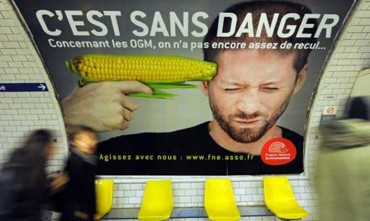 Since the mid-to-late 1990s when genetically-modified organisms (GMOs) were first being thrust onto the market by governments working in lockstep with the biotechnology industry, the U.K. Parliament has effectively barred their use in all food items served to government officials at Parliament restaurants, according to new reports. This, despite the fact that prominent elected officials in the U.K. are right now pushing GMOs on a public that is largely opposed to them, effectively shining the spotlight on their own insane hypocrisy with regards to the GMO issue.
As recently reported by the U.K.'s Daily Mail, news of the Parliament's ban on GMOs at its own restaurants comes amid the procurement of a massive pro-GMO propaganda campaign being led by this very same Parliament against the interests of its own people. Biotech industry hacks like Conservative Secretary of State for the Environment Owen Paterson, for instance, who actually claims GMOs are safer than non-GMOs, is currently pushing for more GMO acceptance in his country even though he does not eat GMOs himself.
Paterson, who regularly dines on only the highest quality non-GMO fare at fancy Parliament restaurants like the Portcullis House and the Pavilion buffet, is quoted as blaming starvation in third world countries on widespread rejection of GMOs in the U.K. and elsewhere. Resistance to GM "Golden Rice," for instance, is apparently the reason why millions of children have gone blind or died, according to Paterson, whose vehement advocacy of GMOs borders on maniacal.
"Over the last 15 years, despite offering the seeds for free to those who would need them, every attempt to deploy this Golden Rice has been thwarted," exclaimed Paterson in a recent nonsensical statement. Completely untrue in every sense, as Golden Rice has never been approved anywhere, nor has it ever been offered for free to any country, Paterson's fantasy views reflect the same lunatic sentiments as those held by many others in the Parliament, who themselves have opposed GMOs from the very beginning.
Sanctimonious government officials order the people to do as they say, not as they do.
In essence, the common folk are basically expected to openly embrace untested GMOs while their overlords in government gorge on all-natural foods that have not been shown to cause cancerous tumors, digestive destruction, and other major health problems. This is further evidenced by a recent statement put forth by the company that prepares and serves food for the Parliament, which admits that Parliament members do not personally want to ingest GMOs.
"In line with its procurement policy, the House of Commons Catering Service avoids, wherever identifiable, the procurement of foods that contain genetically modified organisms," reads a statement by the U.K. Parliament's food supplier. "To this end, as part of the tendering process, food suppliers are required to work to a strict GM organisms policy and give assurances that goods supplied be free from genetically modified materials," adds the group, noting that "customer choice" is responsible for keeping GMOs out of Parliament cafeterias.
In other words, GMOs are unacceptable for the self-appointed elite in the highest ranks of the government, who have decided to personally reject them in favor of real food. But for everyone else, GMOs are needed to end world hunger, save the planet, and return the global ecosystem to some type of Garden of Eden where nobody goes hungry and everybody lives forever, or something along these farcical lines.
"GM crops are not the solution to the food challenges we face," says Clare Oxborrow from Friends of the Earth, countering the blatant dissimulation being propagated by corrupt individuals like Paterson. "They are largely being developed to benefit multinational biotech firms that are gaining control of the seed industry, not to feed poor people in developing countries. World food production needs a radical overhaul, but this should be based on less intensive practices that increase agricultural diversity, deliver resilience to the impacts of climate change and benefit local communities."
GMO-free meals at Monsanto
Remember the notice at a Monsanto staff canteen stating the decision "to remove, as far as practicable, GM soya and maize from all food products served in our restaurant. We have taken the above steps to ensure that you, the customer, can feel confident in the food we serve." According to Tony Coombes, the company's spokesperson, "Yes, this is the case, and it is because we believe in choice."
Evidently the average citizen is not allowed the same courtesy of choice considering GMOs have infiltrated the food supply and are not labeled in North America. Only those who can afford the price tag of organic food are able to protect themselves from harmful contaminants. As for the rest of the population, they are the ones who will suffer the devastating health consequences of a corrupt system.
Sources for this article include: