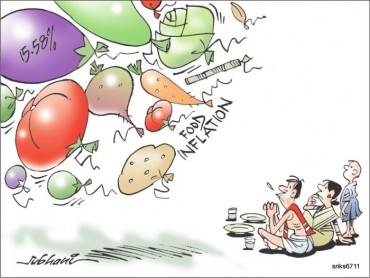 We give Robert Zoellick 4 to 6 weeks before he follows Axel Weber, Kevin Warsh and the COO of one of the bankrupt GSEs (we forget his name) into the sunset. The reason? After breaking ranks with the Criminal Bank Cartel last year and calling for a return to the gold standard, the president of the World Bank has dared to be the first among the institutional elite to point out that the cotton in the emperor's clothes, were he to be clothed in the first place, would have surged by 100% in less than a year. According to AP:
Global food prices have hit "dangerous levels" that could contribute to political instability, push millions of people into poverty and raise the cost of groceries, according to a new report from the World Bank.

The bank released a report Tuesday that said global food prices have jumped 29 percent in the past year, and are just 3 percent below the all-time peak hit in 2008. Bank President Robert Zoellick said the rising prices have hit people hardest in the developing world because they spend as much as half their income on food.

"Food prices are the key and major challenge facing many developing countries today," Zoellick said. The World Bank estimates higher prices for corn, wheat and oil have pushed 44 million people into extreme poverty since last June.

The report comes a day before Finance ministers and central bank chiefs from the Group of 20 leading economies meet in Paris. Zoellick said he's worried some countries might react to food inflation by banning exports or implementing price controls, which would just aggravate the problem.

The World Bank's food price index rose by 15 percent between October and January alone. The increase has been driven by volatile global trading in wheat, corn and soybeans. Global corn futures more than doubled since this summer, from $3.50 to $7 a bushel, in part because of higher demand from developing countries and a growing biofuels industry.

Prices are rising in part because global grain traders have gotten jittery about historically low reserve levels of corn, wheat and soybeans, said Chris Nagel, an analyst with Northstar Commodity in Minneapolis. Growing demand from customers in China and elsewhere is putting pressure on the supply of most commodities, he said.

The U.S. Department of Agriculture predicted last week U.S. corn farmers will have just 675 million bushels of corn at the end of August, before next year's harvest begins. That's just an 18-day supply, Nagel said.

The slim reserves mean traders will likely bid up crop prices further at any weather event that reduces next year's planting.

"We need to get good crops, all around the world, in all of these commodities," Nagel said. "You just don't have much foot room for error.

The global price of fats and oils rose 22 percent and wheat rose 20 percent between October and January, according to the World Bank. The prices of sugar rose by 20 percent in that time.

Between June and December, wheat prices climbed 54 percent in Kyrgyzstan, 45 percent in Bangladesh and 16 percent in Pakistan, for example.

Zoellick warned that higher prices could stoke political instability in countries like Egypt and Tunisia. Both countries are big wheat importers and higher grain costs could aggravate social unrest as the countries form new regimes, he said.
Not to worry. According to Fed VP Christine Cumming who spoke earlier somewhere, rising commodity costs merely indicate "stronger global demand." Oddly enough, it is this supposed demand for products that has forced 44 million people to enter "extreme poverty"… out of their own volition. We are  not sure, but something tells us the Fed's Cumming has a Ph.D.
Sources: AP, ZeroHedge.com