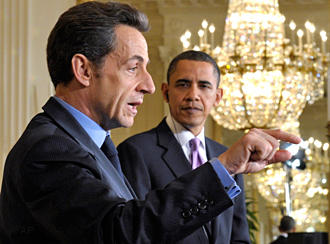 Original story: DW-world.de
France is hosting this year's G8 and G20 summits, and French President Nicolas Sarkozy has started to campaign for a change to the way the US dollar plays a central role in the global economy.
In his New Year's Eve address to his country, Sarkozy said France would look to change a system which no longer reflects our modern global society.
"The system put in place in 1945 is for a world that doesn't exist anymore," the French president told the nation.
He suggested that the current model which uses the US dollar as the primary reserve currency was "unstable" and "makes part of the world dependent on American monetary policy."
Sarkozy's plan is to update everything to what he regards as the new reality of a more multi-polar world and the rise of new powers like India, Brazil and China.
'Dangerous' to rely on dollar
Sarkozy is not the only Frenchman who wants to reduce the world's reliance on the dollar. Philippe Dessertine from Paris' High Finance Institute recently described using the dollar as the only reserve currency as "very dangerous."
Recent actions by the US Federal Reserve to stimulate the economy through quantative easing ? where dollars are printed to buy US government bonds in order to increase the money supply ? have been criticized internationally.
"The Federal Reserve's latest actions favor the US but have consequences for the rest of the world," Dessertine said. "Emerging countries and Europe really want to change that."
Devalued dollars flood developing countries, which push their currencies up, quashing their exports and potential for job creation.
Dollar is king? for now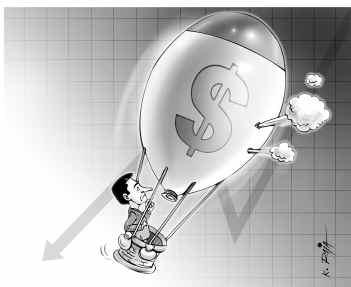 Dessertine and other economists say the dollar will remain king for now, so long as the world economy does not go into recession. But if things get worse, the US will have to work with other nations to reduce the dollar's influence.
Other options would be to have several reserve currencies, or a basket of currencies to act as reserves.
The hardest part of Sarkozy's plan is convincing the US to give up the dollar's dominant position.
"With respect to international financial regulation, trying to stabilize currency rates and commodity prices? These are not going to be areas where the United States, and indeed Obama, are most receptive," said Nicholas Dungan, a US-based advisor with the French Institute of International and Strategic Relations.
So far Sarkozy has secured the backing of the leaders of India and China.
He will now be hoping he will succeed at least in getting world leaders to talk about a new monetary system at this year's global summits in France. He will be hoping President Obama will also be prepared to join in these discussions.