Via Computerworld.in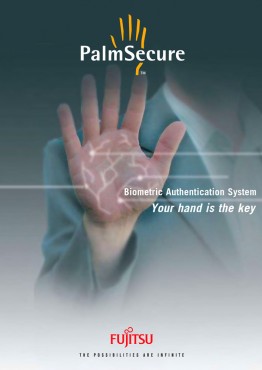 Fujitsu Technology Solutions has named European bank UniCredit as the first major customer for its PalmSecure authentication system, which is on display at the Cebit trade show in Hanover, Germany, this week.
UniCredit will roll out the system in Italy as means of payment authorisation. In that case, users enrolled in the system will be able to pay by holding their hand over a scanner on suitably equipped point-of-sale (POS) terminals, without the need for a card or PIN, the bank said. It is already testing the system, which it calls Papillon. The bank's CEO Federico Ghizzoni made the first payment on a pilot system at an Italian store belonging to upmarket cosmetics chain Kiko in mid-December.
PalmSecure, already tested with banks in Japan, uses an infrared sensor to scan the pattern of veins in the palm of the hand from a distance of about 5 centimeters, converting the result into a digital code. The system also detects the flow of blood through the veins, defending against the kind of fake-finger attacks that have bedevilled fingerprint authentication systems and making it pointless for thieves to cut off authorised users' body parts in order to defeat access control systems, said Fujitsu Technology Solutions CTO Joseph Reger.
There is no need to touch or swipe the sensor, making it suitable for environments where hygiene or resistance to dirt is important, such as hospitals or industry.
PalmSecure is an order of magnitude more accurate than fingerprint recognition, according to Reger.
Fingerprint scans have a false acceptance rate — when someone else is mistakenly identified as the authorised user — of around one in 100,000, compared to around one in 1.25 million for palm vein scans, according to Fujitsu. The false rejection rate — where the authorised user is refused access — is around one in 1,000 for fingerprint scans and one in 10,000 for palm vein scans, it said.
With greater accuracy comes greater cost, however. The scanner component costs about $100 today, while a plug-in scanner module costs around $200. If demand for modules is sufficient, though, that cost could come down to around $20 as production volumes rise, Reger said.
Fujitsu has enrolled tens of thousands of users of different ages, sexes and ethnic background, allowing it to test the system's speed and accuracy with a large database of users. It says its own internal research has shown that palm vein patterns are unique to individuals and contain detailed characteristics allowing them to be distinguished from one another.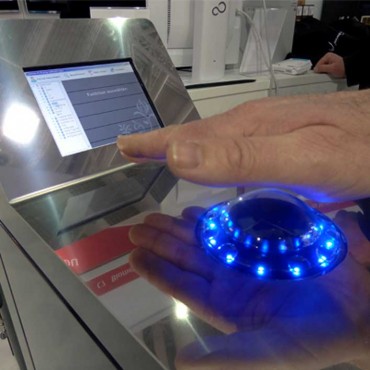 Nevertheless, one-factor authentication is not enough for sensitive deployments such as banking, Reger said. Fujitsu advocates two-factor authentication for such applications — and this is also a legal requirement in some European countries, including Germany, he said.
PalmSecure's scanners can either be linked to a central back-end database with a separate enrollment system, more appropriate in a banking environment, or the functions of enrollment and authentication can be combined in an embedded system for access control. Fujitsu even envisions that the system could be built into cars as an alternative to existing security systems using keys or RFID tags.