Via RT.com and Infowars.com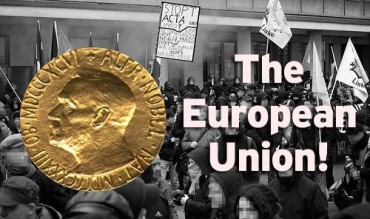 The 27-nation organization was awarded the prize for its role in ?uniting the continent,? and its contributions ?to the advancement of peace and reconciliation, democracy and human rights in Europe.?
A heated debate emerged over the validity of the award amidst the backdrop of Europe?s as-yet-unsolved economic crisis.
?The European Union is in the middle of one of its worst crises, but perhaps it is precisely now the peace and stabilization project deserves a hand from the ?no? country Norway?? Norwegian public broadcaster NRK said.
Norway, the Nobel Peace Prize?s host nation, refused membership in the EU in 1972 and again in 1994.
It makes perfect sense ? the globalist European Union has received a ?peace? award dreamed up by a guy who manufactured armaments and invented dynamite.
One-worlders and banksters were joyous.
?It is a great, touching moment for the EU to get the Nobel Peace Prize 2012 for the decades of working on peace, democracy and wealth on our continent,? gushed Werner Hoyer, President of the European Investment Bank.
Herman Van Rompuy, president of the European Council, and Jose Manuel Barroso, President of the European Commission, issued a joint statement stating that the ?European Union will continue to promote peace and security in the countries close to us and in the world at large.?
It took Nigel Farage, UKIP leader, to inject a solid bit of reality into the otherwise self-congratulatory froth.
?After watching European Council President Van Rompuy cheerleading for war in Libya with Colonel Gaddafi, this idea of the EU getting a Nobel Peace is ridiculous,? he said.  The move was ?an absolute disgrace. I think it brings the Nobel Prize into total disrepute,? he added.
The leader of Norway?s main anti-EU organization, Heming Olaussen, described the prize as ?absurd? in an interview with NRK.
RT?s Max Keiser expressed outrage, describing the Nobel Peace Prize as being given to ?a technocratic monstrosity.?
?This is like giving the prize to Frankenstein for being the best monster created during the past 12 months,? Keiser said. ?Who are they going to give it to next? They are going to give it to a genetically modified seed in India where farmers are killing themselves by the thousands because of companies like Monsanto. Give it to Monsanto next year, Nobel Committee!?
httpv://www.youtube.com/watch?v=h870AdNmOtY
Several Russian officials and human rights activists also expressed confusion over the decision.
In 2009, the Nobel Committee raised eyebrows and sparked similar debate for awarding the Peace Prize to newly inaugurated US President Barack Obama. President Obama had only been in office for two weeks, but was awarded the prize ?for his extraordinary efforts to strengthen international diplomacy and cooperation between peoples.?
This is not to mention controversial 1973 Peace Prize for Henry Kissinger, US Secretary of State and US National Security Advisor, who was implicated in war crimes in Latin America and Southeastern Asia.