Via Activistpost.com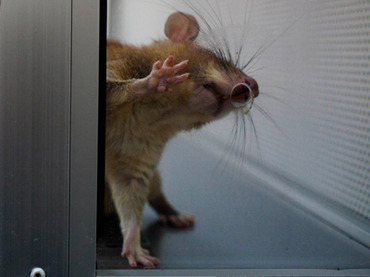 Russian researchers will stream a live experiment to show the effects of GMO feed on rats. This comes after a French study found GMOs to have negative effects on rats, which lead to a provisional Russian suspension on imported Monsanto genetically modified corn.
Russian Scientists Condemn GMOs, Plan a Unique Experiment
French scientists at the University of Caen sounded the alarm on September 19 after publishing images from their study of tumors on rats fed American GM maize. The National Association for Genetic Safety (NAGS) researchers in Russia have publicly condemned genetically modified organisms (GMOs) and have declared plans to conduct an experiment which members of the public can see, allowing the latter to formulate well-informed opinions about GMOs themselves.
These researchers will install web cameras in the cages of four groups of rats.
Group 1 will be fed a diet high in GM soybeans and corn.
Group 2 will be fed a diet low in GM soybeans and corn.
Group 3 will be fed a diet with no GMOs.
Group 4 will be fed a diet with standard rat feed.
To ensure integrity in the experiment, individuals assigned to tend to the rats will not know what food they are feeding them.
This is a unique experiment, says project Elena Sharoykina, who is spearheading the project. There hasn?t been anything like it before?open, public research by opponents and supporters of GMO.
Project to Cost $1 Million
If the rats survive (those in the French study became infertile, just as many before them), the experiment will go on for five generations. The public will have to wait until March 2013, however, to see the effects of GMOs while the scientists work out the finer details, such as funding. The research is projected to cost $1 million, which the scientists hope to find in commercial sponsors, government grants, and even public funding.
Sharoykina thinks it?s money well spent. ?We will have a chance to understand in what direction we should move,? she says. ?If this research proves negative influence, and supporters of GMOs accept it, the next step should be a moratorium on products with GMOs in Russia.?
Obstacles to Natural Food and GMO Labeling
With Food and Drug Administration (FDA) in bed with Monsanto and Dow?as evidenced in a number of political and economic maneuvers, not least of all the removal of 1 million signatures for a GMO labeling campaign?it?s uncertain how easily the United States will end genetic modification practices. Researchers across the world have already provided ample evidence of GMO?s harmful effects, including weight gain, organ disruption, infertility, tumor development, and the development of resistant weeds and pests. The push for change to natural, organic food and GMO labeling must come from the public.
Additional Sources:
RT
Business Week