Yahoo.com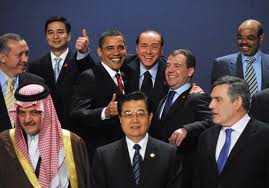 SEOUL, South Korea ? Leaders of 20 major economies on Friday refused to endorse a U.S. push to get China to let its currency rise, keeping alive a dispute that has raised the specter of a global tradewar.
At the end of their two-day summit, the leaders of the Group of 20 rich and developing economies ? including President Barack Obama and China's Hu Jintao ? issued a watered-down statement that only said they agreed to refrain from "competitive devaluation" of currencies.
Such a statement is of little consequence since countries usually only devalue their currencies in extreme situations like a severe financial crisis. Using a slightly different wording favored by the U.S. ? "competitive undervaluation" ? would have shown the G-20 taking a stronger stance on China's currency policy.
The crux of the dispute is Washington's allegations that Beijing is artificially keeping its currency, the yuan, weak to gain a tradeadvantage. But the U.S. position has been undermined by its own recent policy of printing money to boost a sluggish economy, which is weakening the dollar.
The G-20's failure to adopt the U.S. stand has also underlined Washington's reduced influence on the international stage, especially on economic matters. Obama also failed to conclude a free trade agreement this week with South Korea.
Obama told a news conference that China's currency is an "irritant" not just for the United States but for many of its other trading partners.
"China spends enormous amounts of money intervening in the market to keep it undervalued so what we have said is it is important for China" to follow a market-based system, Obama said. "We have to understand that this is not solved overnight. But it needs to be dealt with and I am confident it can be."
The joint statement avoided the words "competitive undervaluation," which was a reference to China's currency policy that had been inserted into a draft of the statement by officials during pre-summit negotiations.
The dispute over whether China and the United States are manipulating their currencies is threatening to resurrect destructive protectionist policies like those that worsened the Great Depression in the 1930s.
The biggest fear is that trade barriers will send the global economy back into recession. A law the United States passed in 1930 that raised tariffs on imports is widely thought to have deepened the Great Depression by stifling trade.
The G-20 leaders pledged to move toward more market-determined exchange rate systems and enhance exchange rate flexibility. Although directed against China, the statement leaves significant room for interpretation since the language is vague and does not impose any timeframe for enforcing a market-determined exchange rate.